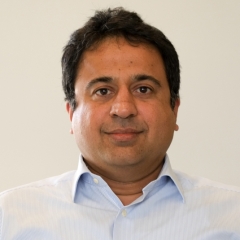 Fred and Linda R. Wudl Chair in Materials Science
Professor, Materials Department and Department of Chemistry & Biochemistry
Contact
3008 Materials Research Lab
University of California, Santa Barbara
Santa Barbara, CA 93106-5050
Materials Research Areas:
Honors:
Fellow of the American Physical Society
UCSB Academic Senate Graduate Mentoring Award
UCSB Margaret T. Getman Service to Students Award
Fellowship of the Royal Society of Chemistry
Visiting Fellow Commoner, Trinity College, Cambridge, UK
Research Description:
Research efforts in the group are focused on the theme of developing structure – composition – property relations in functional inorganic materials. Contributions include the development of solvothermal routes for a variety of inorganic nanomaterials, understanding the role that lone pairs of non-bonding electrons play in inducing polar and ferroic (including multiferroic) behavior, understanding the effects of structural topology in frustrating phase transitions in polar compounds, developing template-free routes to porous and composite inorganic materials, developing new multifunctional magnets, understanding frustrated magnetism, and revealing the importance of oxide-stabilized noble metal ions in oxidation catalysis, with the concurrent development of model compounds thereof. Recent contributions include a better understanding of phosphors for solid-state white lighting, robust thermoelectrics. New initiatives are in the areas of battery and photovoltaic materials and magnetocalorics.
Education:
​Ph.D. in Solid State Chemistry, Indian Institute of Science
M.S. in Chemistry, Indian Institute of Science
B.Sc. (Honors) in Chemistry, St. Stephens College, Delhi University