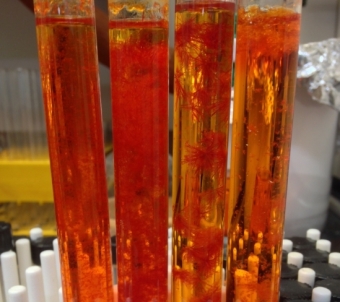 Thursday, February 9, 2017
From the article, "The little bacterium that could" in The UCSB Current, written by Julie Cohen: 
A humble bacterium first isolated in New York's Lake Oneida almost 30 years ago could change the world. With its innate ability to generate electricity, the little powerhouse might one day pave the way for making wastewater drinkable.
The bacterium, Shewanella oneidensis, inspired researchers from the Bazan Research Group at UC Santa Barbara to create a chemically modified microbial fuel cell. Using iron and other minerals, Shewanella produces energy as part of its metabolism and relies on current-conducting proteins in its cell membrane for respiration.
The researchers created an iron-containing molecule, DSFO+, with a structure that could mimic those critical proteins in two mutant Shewanella bacteria. They sought to determine whether incorporating DSFO+ would allow electron transfer in a manner similar to the proteins' function.
When the scientists examined the effect of DSFO+ on the organism, they discovered that they could not only improve its capacity to produce electricity but also use the molecule to replace the function of the naturally occurring proteins in mutant bacteria. Their enhancement resulted in the ability to change the behavior of microbial systems so that in the future such organisms could be used to treat wastewater through their electricity generation. Their group's findings appear in the journal Chem.
To read the entire article about the research of Materials professor Gui Bazan and Materials alumnus Nate Kirchhofer, please visit The UCSB Current.