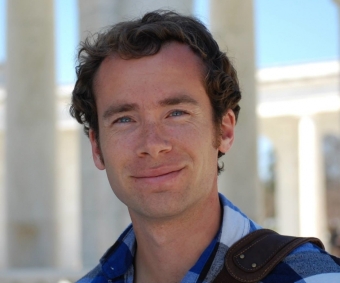 Tuesday, October 13, 2015
While living and attending graduate school in Santa Barbara, alum Michael Titus took advantage of the opportunities he discovered in a place where, as he says, anything is possible. Scientifically, he found the opportunities to make, model, test, and characterize materials, a grand slam combination that is a hallmark of UCSB. The level of expertise, and mentorship, he garnered during his tenure as a graduate student was similarly world-class. Off campus, Michael enjoyed the bounty of the central coast region through backpacking, surfing, and wine- tasting. He particularly relished the ability to ride his motorcycle year-round.
When Michael first came to UCSB, he intended to enter into industry after graduation. Once he began his studies and quickly published his work, he approached his advisor, Professor Tresa Pollock, with his decision to pursue an academic position. With this decision came changes as to how he conducted research and the direction of that research. Michael credits the immediate and continuous guidance to enter academia he received while at UCSB as instrumental in landing an assistant professorship at Purdue.
Michael came to believe that, for a Materials graduate student at UCSB, one's advisor is more important than the project. He also believes that the most successful graduate students are the ones who learn to write well, and begin writing early in their education. As a point of fact, when Michael graduated, he had accrued eight publications, with five more in the pipeline. Michael embodies the work-smarter-not-harder philosophy, and he clearly excelled at it. While working towards his Ph.D., he went so far as to challenge friends and colleagues to competitions to see whom could improve their efficiency at work the most.
Leaving one's comfort zone and exploring areas of research tangential to one's core project is, to Michael, one of the greatest generators of new ideas and success. During his final year at UCSB, Michael attended a Microscopy and Microanalysis conference, where he presented his research findings and attended talks that were afield of his expertise. By doing so, his interests were broadened and, as he begins his career, he will begin to answer some of the questions he generated while attending that conference.
Michael remembers his time at UCSB and in Santa Barbara fondly. He admits that if he could change anything about his experience he would start backpacking and exploring the wilderness of California much sooner than he did.
Michael was awarded his Ph.D. in Materials in June 2015. In late September he begins an Alexander von Humboldt Foundation fellowship for post-doctoral researchers in Germany, where he will be working with renowned metallurgist Dr. Dierk Raabe at the Max Planck Institute for Iron Research. Michael received a two-year fellowship, which he will vacate after 14 months to report to Purdue University in December 2016, where he will begin his career as an assistant professor in the School of Materials Engineering. Michael is one of over 100 faculty hires Purdue's College of Engineering has made in the past five years and he is excited to be a part of the massive growth, which will include new laboratory facilities.
Michael received his B.S. in Engineering Physics from Ohio State University in 2010. He grew up in Cincinnati, OH.