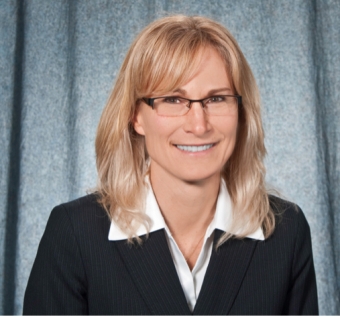 Mari Lou Balmer-Millar, recently named a General Manager in Large Power Systems Division at Caterpillar Inc., spent four years as Caterpillar's Director of Research and Advanced Engineering in the Product Development & Global Technology division. In that role, she was responsible for the execution and governance of Caterpillar's technology strategy, overseeing technology development in the areas of energy and transportation, machine and machine systems, automation and enterprise solutions, factory technology solutions, advanced materials, virtual product development, and advanced manufacturing. Lou led the development of new technology for off-road construction and mining equipment, such as autonomous and semi-autonomous vehicles, and the development of diesel and natural gas engines. She also served as the Caterpillar representative of the Board of Directors and Executive Committee of the Truck and Engine Manufacturers Association, as well as on the Board of the Energy Technologies Institute. 
During her tenure at Caterpillar, Lou has enjoyed several notable successes. She takes special pride in her contribution to the cross-functional teams that implemented the emissions technologies to meet stringent EPA Tier 4 emissions legislation to reduce NOx and particulates from diesel engines. This included the introduction of diesel particulate filter and regeneration technologies that were new to the off-road environment. The implementation of new technology into the harsh and variable real-world environments that Cat® machines and engines experience every day is a significant technological and engineering undertaking. Lou says leading teams that do this keeps her challenged and engaged.
Considering the challenges today's engineers see and experience in pursuing research, engineering, and product development in the industry, Lou offers sage advice to current and future UCSB Materials graduate students: "It is most important to understand your strengths, mission and purpose before making career choices. If you choose a career path that plays to your strengths and passion, you will more naturally excel, and, more importantly, be more fulfilled and satisfied in your career and life. When you choose a career in research and engineering, courageously tackle the most difficult problems, even when you are unsure of a solution or outcome. Trying new paths and learning from 'failure' is vital to success."
Before joining Caterpillar in 2001, Lou conducted materials and chemical engineering research at the Environmental Molecular Science Laboratory of the Pacific Northwest National Laboratory. In 1998, she received a Presidential Early Career Award and a Department of Energy Young Independent Scientist Award for her contributions to the field of ion sequestration and plasma catalysis. Lou was recognized for her contributions to the area of plasma-catalysis by Vice President Al Gore at the Partnership for the Next Generation of Vehicles Symposium in 1997.
Lou received her Ph.D. in Materials from UCSB in 1993 while working for Professors Carlos Levi and Fred Lange. Prior to coming to UCSB, Lou received her B.S. in Engineering from Penn State University in 1987. She has over 40 technical publications, 10 patents, and is a member of the American Ceramic Society, the American Chemical Society, the Society of Women Engineers, and the Society of Automotive Engineers.