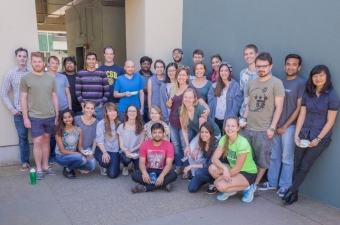 While Materials graduate students patiently waited in the shade on Friday, April 21, Materials professors eagerly scooped ice cream for them in honor of the Department's 2017 Graduate Student Appreciation Ice Cream Social. 
Along with Materials Department Chair Prof. Tresa Pollock and veteran scoopers Profs. Dan Gianola, Frank Zok, and Chris Van de Walle, Prof. Kunal Mukherjee, one of the Department's newest faculty, celebrated the dedication, tenacity, and perseverance of the graduate students by volunteering to scoop ice cream. 
The graduate students work diligently to perform well in class, conduct innovative research, and act as ambassadors for the Materials Department and the Materials Graduate Program throughout the year. The annual Ice Cream Social publicly recognizes the efforts and successes of our students as we set aside time to show our appreciation for each and every one of them.
Thank you, Graduate Students!!