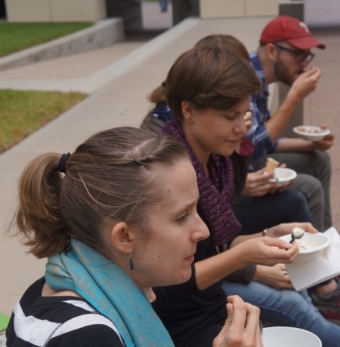 On Friday, May 13, the Materials Department showed its appreciation for the hard work, dedication, and endless hours the graduate students give during the year by holding the annual Ice Cream Social. 
Materials Department Chair Prof. Tresa Pollock, along with Prof. Dan Gianola and Prof. Galen Stucky scooped ice cream for over an hour to the ravenous students who happily attended the annual event. 
The graduate students enjoyed the brief respite from studying for courses work, conducting research, and writing dissertations. Everyone enjoyed the afternoon treat and enjoyed one another's company as a Department.
Thank you, graduate students, for all of your hard work!!