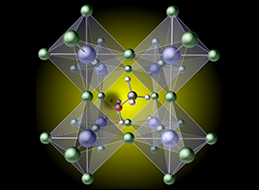 Researchers in the materials department in UC Santa Barbara's College of Engineering have uncovered a major cause of limitations to efficiency in a new generation of solar cells.
   Various possible defects in the lattice of what are known as hybrid perovskites had previously been considered as the potential cause of such limitations, but it was assumed that the organic molecules (the components responsible for the "hybrid" moniker) would remain intact. Cutting-edge computations have now revealed that missing hydrogen atoms in these molecules can cause massive efficiency losses. The findings are published in a paper titled "Minimizing hydrogen vacancies to enable highly efficient hybrid perovskites," in the April 29 issue of the journal Nature Materials.
   The remarkable photovoltaic performance of hybrid perovskites has created a great deal of excitement, given their potential to advance solar-cell technology. "Hybrid" refers to the embedding of organic molecules in an inorganic perovskite lattice, which has a crystal structure similar to that of the perovskite mineral (calcium titanium oxide). The materials exhibit power-conversion efficiencies rivaling that of silicon, but are much cheaper to produce. Defects in the perovskite crystalline lattice, however, are known to create unwanted energy dissipation in the form of heat, which limits efficiency.